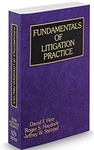 Title
Fundamentals of Litigation Practice
Description
Fundamentals of Litigation Practice serves as an introduction to issues and tasks a litigator might face in routine litigation practice. This resource emphasizes the processes that take place before a trial. A unique feature is "StartSmart," a brief synopsis at the beginning of each chapter. StartSmart is intended as a starting point for a new lawyer or for a more experienced lawyer who hasn't addressed the issue recently.
The text provides an overview of the law governing a particular problem and guides the process to obtaining further information. The balance of each chapter provides more detailed and comprehensive coverage of procedure, tactics, and techniques. You will find expanded discussions on:
Investigation and litigation strategy
Pleading
Discovery
Motion practice
Trial
Appeal
Settlement
This resource helps you to easily and effectively solve common litigation problems. The table of contents sets out roughly the chronological life of a typical lawsuit.
Editions of this book have been published in 2010, 2011, 2012, 2013, 2014, 2015, 2016, 2017, and 2018.
Keywords
litigation, litigation practice, pleading, discovery, motion practice, trial, appeal, settlement.
Disciplines
Civil Procedure | Litigation
Recommended Citation
Stempel, Jeffrey W.; Herr, David F.; and Haydock, Roger S., "Fundamentals of Litigation Practice" (2018). Books. 25.
https://scholars.law.unlv.edu/books/25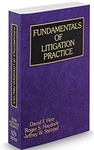 @ UNLV Law
COinS