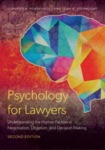 Title
Psychology for Lawyers: Understanding the Human Factors in Negotiation, Litigation and Decision Making
Description
The primary goal of this book is to expose lawyers and law students to some of the key insights offered by the field of psychology and to illustrate the ways in which understanding these insights can improve the practice of law.
Law is a profession centered on human interaction. Virtually every aspect of the practice of law can be enhanced by a well-grounded understanding of psychology—the science of how people think, feel, and behave. Lawyers who harness the insights of psychology will be more effective interviewers and counselors, engage in more successful negotiations, conduct more efficient and useful discovery, communicate more ably, better identify and avoid ethical problems, and even be more productive and happy.
Psychology for Lawyers, Second Edition introduces lawyers to some of the key insights offered by the field of psychology, drawn from research on perception, memory, judgment, decision making, emotion, persuasion and influence, communication, and the psychology of justice. It then applies these insights tasks to the daily tasks of lawyering, including interviewing, negotiating, counseling, and conducting discovery.
Case studies and examples throughout the text illustrate concepts in an approachable, relatable way. The authors also include recommendations for relevant books, podcasts, and other media for further exploration.
Publisher
American Bar Association Publications
Keywords
Dispute Resolution, Litigation, ADR Scholarship
Disciplines
Dispute Resolution and Arbitration | Law and Psychology | Litigation
Recommended Citation
Sternlight, Jean R., "Psychology for Lawyers: Understanding the Human Factors in Negotiation, Litigation and Decision Making" (2021). Books. 74.
https://scholars.law.unlv.edu/books/74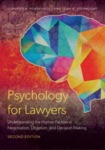 @ UNLV Law
COinS