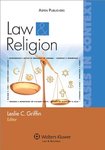 Title
Law and Religion: Cases in Context
Description
Designed to be used either as a primary text or with any Law and Religion or First Amendment text, Law and Religion: Cases in Context presents descriptions and discussions of the landmark cases in law and religion and the First Amendment. Cases are selected from the leading religion and First Amendment casebooks, and the authors provide insights into the significance of each while revealing its context and, for many, details about what happened after the case was concluded.
This unique text will intrigue students and engage their interest with —
accessible prose and interesting illustrations
cases that involve issues that continue to confound the courts: creation science and evolution; public religious symbols like the cross and the crèche; private religious clothing like the yarmulke and the khimar; tax policy and religion
engaging characters, such as: Guy Ballard, who told customers that he was chosen by Saint Germain as a divine messenger and possessed supernatural healing powers that they could purchase. Officer and Doctor Simcha Goldman, who wore a yarmulke to the psychology clinic until an irritated military attorney complained to Goldman's superiors that the yarmulke was not permitted under Air Force regulations. Kimberlie Webb, a Philadelphia police officer who lost her efforts to wear a headscarf while in uniform and on duty. Ronald Rosenberger, who successfully challenged the University of Virginia's denial of funding to his evangelical publication, Wide Awake.
insights from leading law and religion scholars of diverse professional, religious, geographical, and institutional backgrounds
Publisher
Aspen Publishers
City
New York City, New York
Keywords
first amendment, religion, establishment clause, supreme court
Disciplines
First Amendment | Religion Law
Recommended Citation
Griffin, Leslie C., "Law and Religion: Cases in Context" (2010). Books. 64.
https://scholars.law.unlv.edu/books/64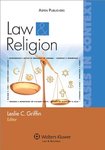 COinS