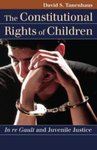 Title
The Constitutional Rights of Children: In re Gault and Juvenile Justice
Description
When fifteen-year-old Gerald Gault of Globe, Arizona, allegedly made an obscene phone call to a neighbor, he was arrested by the local police, who failed to inform his parents. After a hearing in which the neighbor didn't even testify, Gault was promptly sentenced to six years in a juvenile "boot camp"—for an offense that would have cost an adult only two months.
Even in a nation fed up with juvenile delinquency, that sentence seemed over the top and inspired a spirited defense on Gault's behalf. Led by Norman Dorsen, the ACLU ultimately took Gault's case to the Supreme Court and in 1967 won a landmark decision authored by Justice Abe Fortas. Widely celebrated as the most important children's rights case of the twentieth century, In re Gault affirmed that children have some of the same rights as adults and formally incorporated the Fourteenth Amendment's due process protections into the administration of the nation's juvenile courts.
Placing this case within the context of its changing times, David Tanenhaus shows how the ACLU litigated Gault by questioning the Progressive Era assumption that juvenile courts should not follow criminal procedure. He then takes readers to the Supreme Court to fully explore the oral arguments and examine how the Court came to decide Gault, focusing on Justice Fortas's majority opinion, concurring opinions, Justice Potter Stewart's lone dissent, and initial responses to the decision.
The book explores the contested legacy of Gault, charting changes and continuity in juvenile justice within the contexts of the ascendancy of conservative constitutionalism and Americans' embrace of mass incarceration as a penal strategy. An epilogue about Redding v. Safford—a 2009 decision involving a thirteen-year-old schoolgirl, also from Arizona, who was forced to undress because she was suspected of hiding drugs in her underwear—reminds us why Gault is of lasting consequence.
Gault is a story of revolutionary constitutionalism that also reveals the tenacity of localism in American legal history. Tanenhaus's meticulous explication raises troubling questions about how local communities treat their children as it confirms the importance of the Supreme Court's decisions about the constitutional rights of minors.
Publisher
University Press of Kansas
Keywords
Gault, juvenile, criminal, procedure, change, constitution, children, rights, minors
Disciplines
Criminal Law | Juvenile Law
Recommended Citation
Tanenhaus, David S., "The Constitutional Rights of Children: In re Gault and Juvenile Justice" (2011). Books. 75.
https://scholars.law.unlv.edu/books/75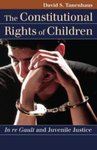 @ UNLV Law
COinS