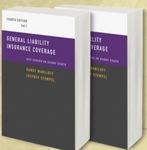 Title
General Liability Insurance Coverage: Key Issues in Every State
Description
General Liability Insurance Coverage: Key Issues in Every State authored by Randy Maniloff & Jeffrey Stempel: Insurance coverage disputes raise issues in which laws and outcomes regularly vary from state to state. Whether a claim is covered can depend a great deal on whether the case arises on one side of the street or another. It is imperative that insurance claims professionals, lawyers, brokers, risk managers, risk consultants, regulators, and judges have adequate access to comparative state-law research. General Liability Insurance Coverage is designed to give the stakeholders in the claims process ready access to the law of all 50 states on the most important liability insurance issues to quickly learn and assess state law relevant to coverage disputes.
Previously published by Oxford University Press, the 3rd Edition of Key Issues adds over 800 new cases (mostly from 2012-2014) and an expanded chapter examining the law in all 50 states on privacy coverage issues (to be at the core of many cyber coverage issues).
Features • Written by a practitioner and legal scholar with extensive backgrounds and experience in insurance coverage law • An easy-to-read resource for all those involved in the insurance claims process • Provides readers with a thorough and up-to-date state-by-state analysis of insurance coverage law
Editions of this book have been published in 2011, 2012, and 2015.
Keywords
Insurance coverage disputes, comparative state-law, liability insurance
Disciplines
Insurance Law
Recommended Citation
Stempel, Jeffrey W. and Maniloff, Randy, "General Liability Insurance Coverage: Key Issues in Every State" (2015). Books. 90.
https://scholars.law.unlv.edu/books/90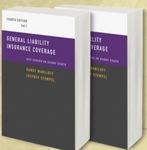 @ UNLV Law
COinS