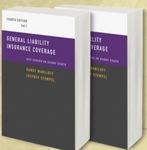 Title
General Liability Insurance Coverage: Key Issues in Every State
Description
States can differ widely in their interpretation of liability insurance policies. Simply put, liability claims cannot be handled adequately without considering the applicable state law for each issue.
General Liability Insurance Coverage – Key Issues in Every State examines 20 of the most important coverage issues and provides the law – clearly and in detail – in all 50 states and D.C. And half of the chapters involve issues that are equally applicable to Professional Liability policies.
Previously published by Oxford University Press, the 4th Edition of Key Issues adds over 900 new cases (mostly from 2014-2017) and a new chapter addressing the ALI's Restatement of the Law of Liability Insurance.
If you want an esoteric discussion of coverage, do not buy Key Issues. Buy a treatise. But if you just want to have the law at your fingertips, on the liability coverage issues that arise every day, then you'll be pleased with what Key Issues has to offer.
Editions of this book have been published in 2011, 2012, 2015, and 2018.
Keywords
Insurance coverage disputes, comparative state-law, liability insurance
Disciplines
Insurance Law
Recommended Citation
Stempel, Jeffrey W. and Maniloff, Randy, "General Liability Insurance Coverage: Key Issues in Every State" (2018). Books. 90.
https://scholars.law.unlv.edu/books/90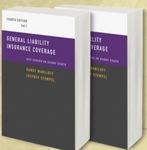 @ UNLV Law
COinS