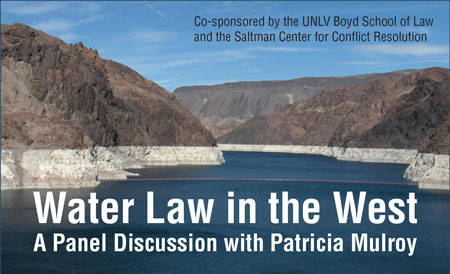 The age of abundance has ended. The U.S. Bureau of Reclamation, which manages the Colorado River system, projects a significant imbalance between demand and available supply during the next half-century. We who rely upon this river face unprecedented challenges, but we face them with a level of cooperation and determination never seen before. While there is no single solution, there exist a mosaic of technical and policy options that will allow us to weather this storm. This panel discussion held in the Thomas & Mack Moot Court on Sept. 25, 2013, focused on the challenges, obstacles and opportunities that will determine the fate of the Colorado River.
An esteemed panel of regional experts explored the many facets of the water issue in the West:
Patricia Mulroy, General Manager of the Southern Nevada Water Authority
Jeffrey Kightlinger, General Manager of The Metropolitan Water District of Southern California
Michele Straube, Director of the Wallace Stegner Center Environmental Dispute Resolution Program of The University of Utah S.J. Quinney College of Law
The panel discussion was co-sponsored by the Boyd School of Law and the Saltman Center for Conflict Resolution.
Browse the contents of Water Law in the West: A Panel Discussion with Patricia Mulroy: